The right place at the right time
Engineers, artists, restaurant owners – all share one thing in common. They are perfectly positioned to contribute to their brand story but too busy to sort through content to edit and share engaging stories. That's where we come in. A

OS Content Cloud is an app that connects your phone's camera to our team of editors so that we can take care of music, subtitles and logos for you. Let's look at how to get the best content into the cloud in the first place – how to get your best shot, your most engaging content.

 
Shoot with confidence. Never worry about post production.
Guide – Video Storytelling for Community Engagement
Coming soon – a series of extensive guides to video 

storytelling

, content marketing and more. Until then we are evolving the section below as a guide to better brand storytelling using the tools you probably already have – and AOS Content Cloud.
1. What to Shoot
Years of experience producing content for brands in every sector has provided us with some insights that apply to everyone. No matter who you are or what you do, digital video is the most engaging, personable, accessible way to deliver your message and, if you're looking for reach, your STORY matters… your JOURNEY matters. With that in mind, you could and should be producing video content on a regular, consistent basis.
Keep your videos short and do them often. Focus on small things. Thinking strategically about content like this will benefit you tremendously as you evolve your content marketing plan. 
Here are some examples of videos you can think about producing to represent the work you do, along with some production ideas for how you should be handling your phone's camera:
The Subject Matter Expert (SME) Video
We've all seen these. They pop up in your social media feed and even on TV. It's what I'm doing right now. One talking head in the centre of the screen, looking directly at the camera, passionately explaining something that they are an expert on. It'll need a graphic lower third saying who the expert is, an end slate with a logo, maybe some music underneath. For most of these videos there are no cutaways. These are the videos that you want to resist having too long. This is where you will need to start looking at your goals and slicing them into much smaller pieces of content. Don't explain your whole product or service in one go. Today… just tell me what this one button right here does… and save some details for tomorrow. Create multiple opportunities to connect with your potential customers not just one giant one. 
Internal Communications Videos
Personal messages from the CEO, induction videos, safety updates. Any formal communication that needs a professional finish. These are just like SME videos so you're going to want to look straight at the camera, not off to one side.
Product / Service / Training / Explainer Videos
This is just like an SME video except that the subject is going more in-depth. Now you want to use cutaways. You might shoot these yourself or they might be screen-grabs of some software you use, or you might need some stock animation to help make your point.  Again, you're going to want to look straight at the camera, engaging your subject. 
Staff / Team / Company Profile and B2B Videos
The scope for communicating with other businesses is huge. Here you might still want to hear the voice of a subject matter expert but now you might want to include more experts, more stakeholders. And you might want to film cutaways of your business operations to show how you're adhering to safety standards or to show production capacity. 
Here's where things can get interesting when you're filming subject matter experts. Instead of having them in the centre of the screen, looking at the camera, position them slightly to one side, looking slightly off-camera into the dead space, where an interviewer might sit. Even if a subject is filming themselves, they can achieve this by placing an object slightly to the side of the camera to focus on while they speak. That can even be an iPad with a FaceTime call of someone who's agreed to interview you for the video. Creating this "interview" setting helps to provide gravity to the experience. Also different stakeholders can be included, creating a conversation around the product, service or issue you're cover
ng. This is by far the biggest decision you should make before filming a subject: are they speaking directly to the audience? Or are they speaking with others off-camera as part of a wider discussion that the audience is witnessing?
Behind the Scenes
Nothing helps document your journey and grow audiences than honest moments from behind the curtain. Everything counts – from the inspiration to create your product or solution right through to launch day. Shoot what happens, and say how you feel. That's probably enough for any editor to create an engaging piece of content.
Virtual Tour Videos
Real estate, architecture, industrial facilities… there are countless examples where a virtual tour provides potential customers with the confidence to make decisions. Long, slow, wide establishing shots or a walk through with your phone on a gimbal (stabiliser). This video might have graphic text or a voice over to orient viewers.
Photography
Photography applications are endless. Take a photo of your daily menu board. Press releases. Behind the scenes moments.
2. How to Shoot it
Use a tripod for interviews.

Let subjects be front lit so that their face is not in the shadows.

Use soft light sources so that shadows under chins and noses aren't too hard.

Hard overhead light can be helped by a reflector in front and below the subject's face, out of view of the camera.

Audio quality will be very much improved by a wired or wireless lapel mic.

Keep interview answers and shots in general below 1min to give our app time to sync with the cloud so that your device doesn't not run out of internal memory.

Use wifi only or data to ensure that you are making the most of the available bandwidth to sync your content quickly and not fill up your device's built-in memory AND not burn through your data plan.

 

Make sure you and your SMEs speak slowly and clearly.

 

For each and every piece of content you create, think of a specific call to action like "subscribe to my channel for future updates" or something stronger like "visit a particular website".

Don't forget to ask all stakeholders to sign the release form.
3. Gear
Here are some links to some simple add-ons that we recommend to improve the quality of your smart phone productions:
These are provided for inspiration only, please research your options thoroughly to ensure compatibility with your device.
4. When to Engage AOS
You can do everything above by yourself. And then you can login to the cloud and download your content if you're comfortable editing and sharing it yourself. At this point, the app provides you with a convenient work camera, keeping your brand's content separate from your personal photo library on your device. You can upload your logos and other content and share these assets and release forms with your team using a browser at https://contentcloud.theartofstorytelling.ca/. Your first 10GB of cloud storage is free.
If however you were attracted to this service because you know that sorting through and editing content, adding subtitles, logos and music can be overwhelming or distract you from your main job, you can reach out to us. Our team of award-winning brand storytellers instinctively know what to do with the content that you gather. A simple email or a conversation with us is all it takes to kickoff a productive relationship that delivers fast, affordable, professional edits and best practice social media management.
Browse through the many hours of high-quality, professional videos we have created here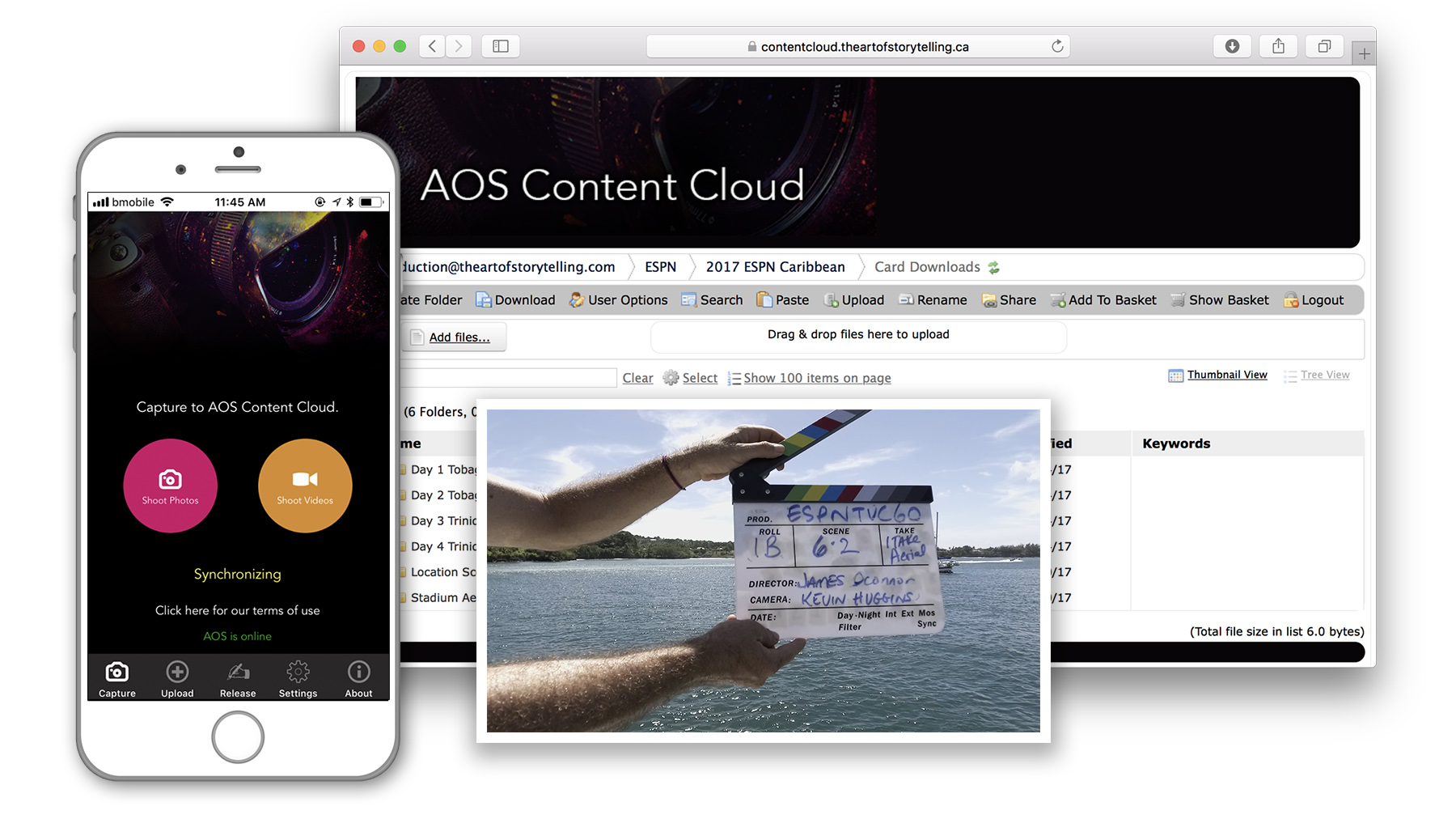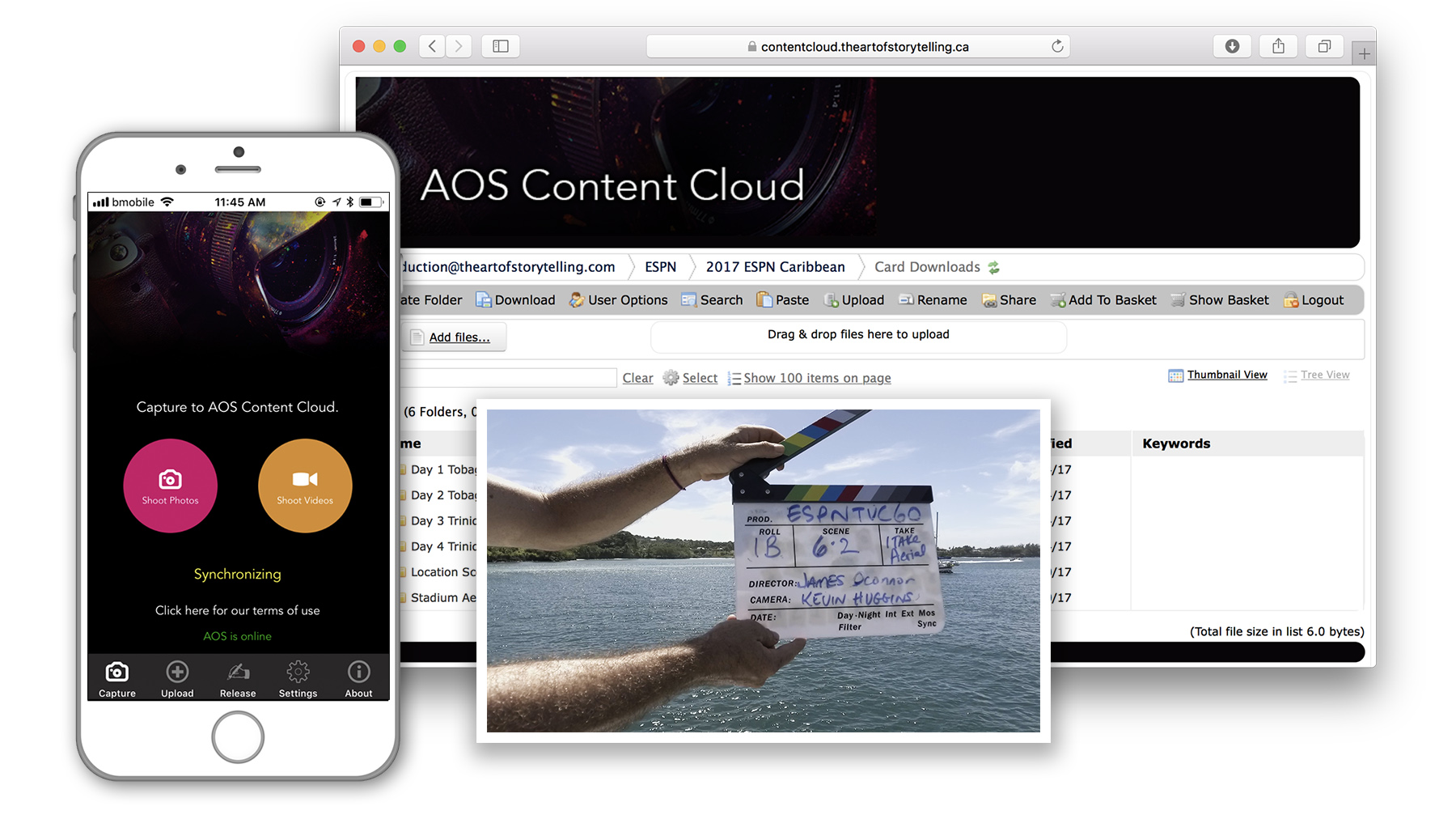 AOS Content Cloud pairs a camera app, content tools and a secure cloud. Download it now.
Our video editing rates start at $150CAD for a 30second video.
Includes stock music, graphic lower thirds (subject names), graphic call to action, subtitles end slate with logo and contact information / url (1 each) per finished video.
For longer videos we provide competitive estimates that are clear to understand. We believe in building long term relationships with brands and organizations to help amplify the work that they do. We can further supply professional voice-over services, book you a camera crew or a drone operator to supplement your footage, anywhere in the world. AOS has always been a full service video and photography production company. We simply built the app to give our existing clients a direct conduit to contribute to their content pool and now we're sharing that with you.
We can help you strategize your content and manage your social media so that the ideas you have for content really start to coalesce into a formal social media calendar and we take e-transfer, electronic credits and wire-transfers.